The virtue of beer
Tuesday 26 to Friday 29 June 2001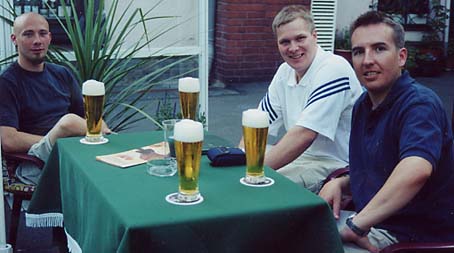 What could be better than a BIG beer after the 'Ring' - mit blume [not sure about the spelling].
Niklas the Porsche owner, Lars-Erik and Thomas the Subaru owner.
We also had a very delicat/delicious dinner, and some more beer after that.....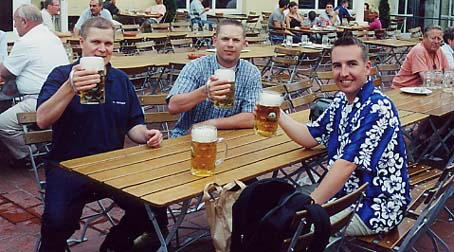 .....at the 'pit lane'.
But this time at: Kloster Andechs - seit/anno 1455.
The beer that we're drinkin' is called: Andechser Spezial Hell, alc. 5,9 vol.
http://www.andechs.de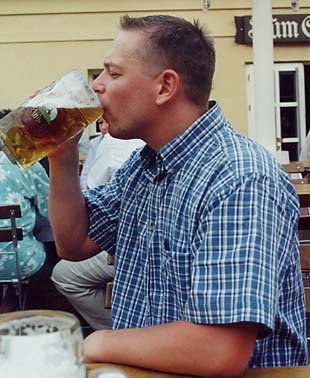 PORSCHE GT2 - NO COMMENTS.
Hrmmm - sorry, that's me havin' a ANDECHSER SPEZIAL HELL.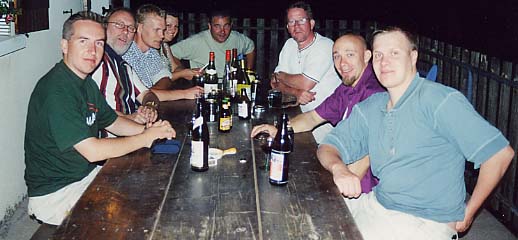 Well - finally, we're all together, in France - Nevers. From the left:
Thomas, Lennart, Jonas, our hosts Mdm/Msr Bonniver
Bo, Niklas and Lars Erik
They, Bonniver, were very nice to us!
---
Magnus Beronius 2001-07-26
Last maintained 2008-09-11